Working to Distribute and Deliver Food in Safe and Convenient Ways
Recent donations of new reusable bags from Redners, Giant, Pottstown GoFourth, Victory Bank, and First Quality Healthcare Group have helped ensure we can continue to distribute and deliver food in a safe and convenient way. A very special thank you to Eric White, Amy Wolf, Jennifer Delp, Deb Lee, and Jane Perkins for their support.
Keith Kovach at JB Supply, Inc. prevented us from experiencing a delay in food deliveries by allowing us to use their site and truck with needed lift gate. Also, Charlie Brian from Seneca Distributions, LLC generously helped us move a large quantity of food to the Pottstown YMCA.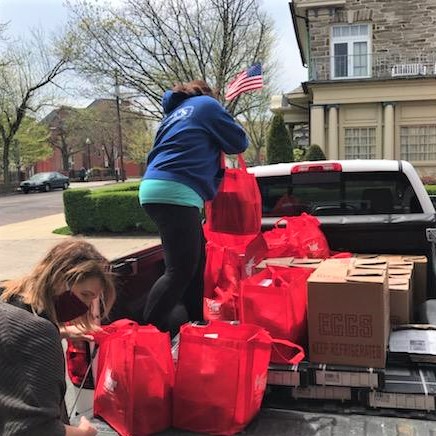 We are safely coordinating community meal take-out services at four community locations for anyone who is in need of a meal. Special thank you to four of our volunteer community meal site coordinators who, along with a team of dedicated volunteers, have been giving their time and energy to offer easy access meals to those in need during the COVID-19 crisis. Dawn Vardy from Emmanuel Lutheran Church, Laura Groth from First Presbyterian Church of Pottstown, Edie Shean-Hammond from Christ Episcopal Church. Pottstown, PA, and Major Jeny Shurtleff from The Salvation Army of Pottstown have been volunteering their time and energy to safely coordinate community meal take-out services.
Working Together to Help Our Neighbors in Need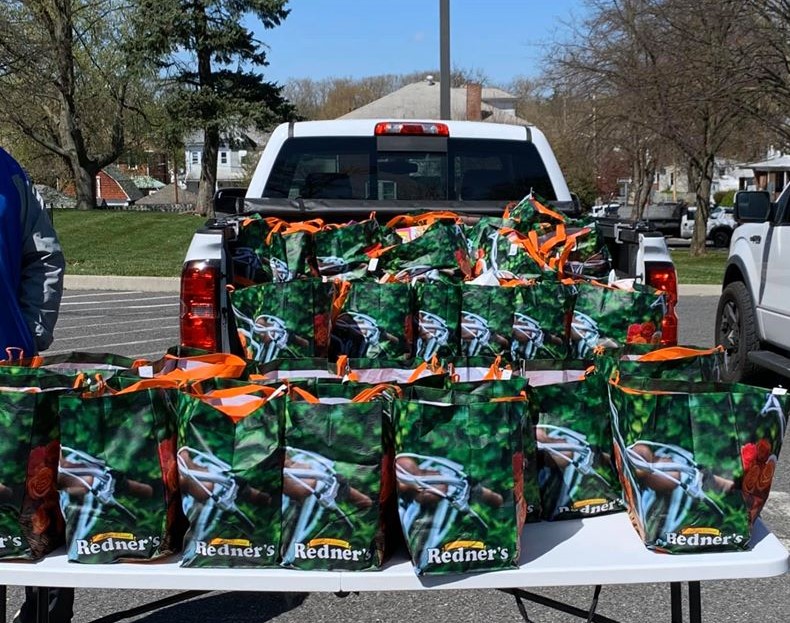 Our dedicated volunteers have been busy helping us meet the growing demand by packing food boxes and bags, distributing food, and restocking shelves. Steve Palopoli, Sean Sullivan, Cyndi and Frank Cebular, Bill and Jan Morris, Jill Dennin, and Mary Blythe have been volunteering at our pantry each week since the start of the COVID-19 crisis. Also, Julianne Dallas and Cathy & Rob Heayn have been delivering food boxes to homebound families and older at-risk adults who are unable to pick up food. They have been delivering food to our neighbors as volunteers for a while now, but really stepped up to help us during the COVID-19 crisis. We could not reach all of our families and seniors or continue to do what we do without them! Also, Rob and Paula Bickelman and Liz Peters have been consistently helping us at school sites each week to provide additional household food for families as we work to ensure our kids and their families are fed and can focus on health and growth, not hunger. We could not do it without them!
We appreciate all who remain dedicated and are currently working vigorously to ensure our neighbors struggling with hunger do not have to worry about how they will feed themselves or their families.